Spring school.
Ahh, just the name is inspiring, isn't it?
The children redolent of those young lambs, playfully scampering about the field, lapping up the English like the very milk from their Mothers' breasts. I was going to shoehorn in some I got ewe babe-type joke, but couldn't manage it.
Anyway, Shane Spring School.
Take a look at this advertising blurb from way back in 2007. And check the promises Shane makes.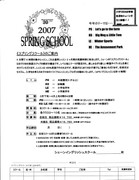 And, see the themes?
.
All carefully graded for the age groups.
Don't take my word for it, it's all there, in glorious black and white.
In fact, your little one will learn as much in for days as they would over a standard three month stint at SESJ.
What's not to like?
Of course, what this all translated to, as far as I was concerned, was, turn up at the school at (I forget exactly when) 9 or 10 am, do four hours' worth of teaching (unpaid, not even a token 1000 Yen, check the terms of your contract, blah, blah, blah), have lunch, then do six hours' teaching at my regular Shane school (a train ride away, couldn't possibly have combined the two, could they?).
PG, KG, LE, HE?
No.
Just see how many kids the girl on reception can round up on whatever promises she can make to the mums, then throw them all into one big group.
As for the themes?
Frankly, bollocks
. All I had was one page of A4 to colour in, and these, themselves, were simply photocopies of images in the Shane kids's textbooks, like FAB and SPEC. Bad, monochrome copies, where the bits had already been pre-coloured, as the book were printed in glorious technicolor. Really, really bad quality photocopies.
Not every school could cobble together enough teachers, so it was the luck of the draw whether or not you were forced to do it. I recall one year, some group meeting, the DoS asked.
Any volunteers for Spring School this year?
Silence.
Because there is some money available.
Some deluded newcomers stuck their paws up. The rest of us knew better. Read your contract.
Still, 14,700, for Shane members, 15,750 for non-members. A cheap child-minding rate for busy, working parents. Just make sure you have grabbed every flashcard in the school before the other teacher, make sure you have a stickyball, some extra colouring in stuff, plenty of toys (if they haven't already been stolen long ago). You get what I am saying. A big gang of bored, mixed-ability, mixed-age, mixed-enthusiasm kids).
Enjoy.